Time Delivery
In the product description page of each artwork, it is shown the time delivery needed, as next screenshot: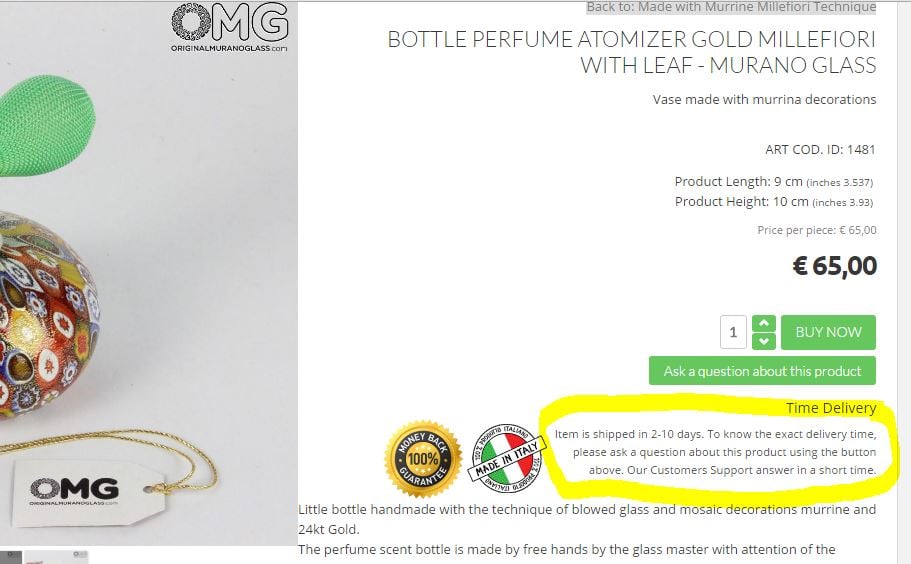 If the item is in stock, with badge Prime Delivery

it will be collected by the courier in 24-48h, immediate available. Just time to safe packed it and pick up from courrier.

Sometime, it dipends from the quantity of items requested and the volume, the time delivery could need more days and a waiting time.
For big and fragile items, it's need additional time for the packing process, some items need a wood box for protection, and this can take additional 3 business days.

When the items are not in stock, and it needs additional time for production, waiting time can be 1-4 weeks to 40 days, it dipends from the artwork.
          
Anyway, to know the exact time delivering, for example for gift or specific date requirement and delivery on time needed, we suggest our client to contact our customer service writing the article id of interest:

email: 
This email address is being protected from spambots. You need JavaScript enabled to view it.   

or using the button "Ask a question about this product" in product description.
Our support service will check the stock availability and tell you the confirmation date of delivery in less then 12hours.


Note: Chandeliers and venetian mirror are always made after client order, it needs from 20 to 60 days of production, it dipends from artwork, colors and materials used.
 The maximal Time Delivery for out of stock and custom product is around 90 business days.