Our artworks can be engraved-carved with cold glass cut or decorated with gold and silver by our expert craftmen upon customer's request.
The engraving (carving) service is FREE included in all order.
How customer can ask to make it?
It is simple: during check out process, write in the order note the desidered words to be writen and the prefered position, if any, or we will use our experience. The sentence should be as short as possible, 6-7 words maximum, according with space on object.
NOTE: for all orders with artwork engraved, our Return Policy is not valid.
The gold or silver decoration can be made on the surface by freehand, contacting our customer service, not included for all orders. Sandblasting and silk-screen are available only for big quantity order.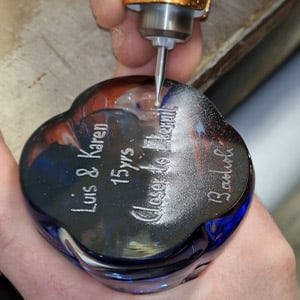 Engraved by hands
Custom engraved sentence
Sandblasting on glass logo
Logo decorated on surface, silk-screen printing
Handmade decoration with gold or silver
Sandblasting Logo